Unlocking your USA C Spire iPhone allows you to switch your service provider but keep your same phone, saving you money. We'll unlock your USA C Spire iPhone immediately, regardless of your standing with your current provider. Once unlocked, your phone will be permanently unlocked to be used on any GSM carrier all over the world. Just insert your new sim and you are good to go.

As the leading online website for cell phone unlocking, we will beat/price match any competitors. Our staff and certified technicians have over 15 years in the industry. We can unlock when many others cannot.
Need Your USA C Spire iPhone While Travelling?
Some carriers will only unlock your iPhone temporarily for travel or make you buy a special plan. With us, your iPhone will be unlocked forever for a low rate. Save on roaming charges where you go!
Why Choose UnlimitedUNLOCK.biz?
Unlimited Unlock is Trusted by Millions for being the #1 Cell Phone Online Unlocking Company іn thе World. We provide iPhone unlock codes and unlocking software with Fast, Reliable, Easy to use Service. Our ultimate goal at UnlimitedUNLOCK.biz is to unlock your phone to be used on another network fast and easy.
Free your iPhone from USA C Spire Network via our IMEI Unlock or GSM unlocking service!
Going on vacation and want to use a local GSM SIM card with your USA C Spire iPhone? Do you want to switch network providers but not buy a new iPhone? Selling your old iPhone device? You've certainly come to the right place!
We have the LOWEST PRICE & FASTEST TURNAROUND TIME for iPhone Unlock!
We provide your personal iPhone unlock codes and easy to follow instructions. Still not sure how to unlock your iPhone device? Don't worry. Our highly-trained customer support team is available to guide you through the process via chat, e-mail, or telephone. (Monday – Sunday 8am to 10pm Eastern Time)
Unlock your USA C Spire iPhone to use on GSM networks across the World!
Please make sure the network you are planing or trying to use your unlocked iPhone on is a GSM carrier. Otherwise, it may not be compatible with your unlocked iPhone. Please check with us before you buy an unlock code if you are not sure. We offer the easiest way to unlock your iPhone device, via IMEI unlock. All we need to know is your IMEI number (press *#06# on your device), network lock, and model. That's it! No cables or taking your phone apart! We have successfully generated thousands of iPhone unlock for Wholesalers, Distributors, CellPhone Stores, Service Centers, Webmasters, and eBay sellers. Our iPhone unlocking is personalized to your device and is 100% guaranteed to work or your money back*.
Let's Get Started by choosing your USA C Spire iPhone​ Unlocking method here...
We can GSM Unlock 99% of Networks
UnlimitedUNLOCK.biz can unlock most GSM Carriers across the world. Whether you are trying to unlock a phone in North America, Europe, Australia, Asia, Central America, South America, and over 220 Countries in the World, if we can't do it, most likely no one else can. We provide the largest database of accurate Unlock Codes and Unlocking solutions in the world today. We can even unlock the phones which Service Providers claim cannot be unlocked. Our recent most popular USA C Spire iPhone Network Unlocking includes:
---
We can Unlock almost any USA C Spire iPhone
UnlimitedUNLOCK.biz can Unlock almost every USA C Spire iPhone up to date. As mentioned before, we can unlock devices that even your carrier cannot unlock themselves and models which they state cannot be unlocked.
NOTE: Our staff and certified technicians have over 15 years in the industry. We can do AT&T USA iPhones Unlock, Cricket USA iPhones Unlock, C Spire USA iPhones Unlock, Metro USA iPhones Unlock, Spectrum USA iPhones Unlock, Sprint USA iPhones Unlock, Straight Talk USA iPhones Unlock, T-Mobile USA iPhones Unlock, Tracfone USA iPhones Unlock, Verizon USA iPhones Unlock, US GSM Country Default Unlock, and US GSM/VZW N61/N56 unlock when many others cannot. View our USA iPhone Factory Unlock page for a complete listing of services.
We can even Unlock the devices your Service Provider will Not Unlock for you!
Network / Carrier Unlock

Yes. This is to unlock your device's carrier restrictions. No more sim lock.

Permanent Unlock

Yes. Once unlocked it is permanent, no relocking

Blacklist Supported

No. Clean IMEI Service - Can not unlock blacklisted phones (the device needs to be Clean IMEI - Can Not be reported Lost, Stolen, or Open Balance)

Yes. PREMIUM Service - Can unlock blacklisted phones (OK- If the device is reported Lost, Stolen in Contract, Active on a line, or have an Unpaid Balance)

Unpaid Bill Supported

No. Clean IMEI Service - Unpaid bill status devices can not be unlocked

Yes. PREMIUM Service - Unpaid bill status devices can be unlocked

SIM Card Required

Yes. A sim card from a different carrier will be required

Data Cable Required

No. No need to plug it into a computer unless it must be done via an alternative method
The iPhone Unlocking Process
Fill out the unlock form with your device details
Once we have received your request form, we will start to search for your iPhone unlock.
Our automated system will email you the iPhone unlock code when it's ready.
VERY IMPORTANT: Please read before you place your order...
Order this service only if your iPhone comes from the C Spire USA network. If you do not know in which network is your iPhone locked, you should first check by ordering a network finder by clicking here - GSX iPhone Network Finder and iPad [Replaced IMEI Supported]
IMPORTANT: If Your iPhone is blacklisted (reported as lost / stolen / open balance) unlocking will not be possible. No refunds when blacklisted iPhone ordered. You can check it here - Network Blacklist Check [Blacklisted | Clean]
IMPORTANT: Please don't submit if your iPhone has "Find my iPhone" on and you don't know the login and password. Unlocking will not remove iCloud (Find my iPhone). There will be no refunds in such cases. Find My iPhone Status Check [On | OFF]
You can check your IMEI number by typing *#06#
All other necessary information can be found below (questions and answers)
How long it will take to complete my order?
The estimated delivery time for this service is based on working business days and is stated to the right of the service. The waiting time for orders placed on weekends/holidays will be counted from the nearest Monday (or the next business day after the holiday).
What exactly will I get after the order is completed?
You will get a confirmation that your iPhone is unlocked. It is usually "UNLOCKED" or "UNLOCKED. CONNECT TO ITUNES". iPhones are not locked by codes.
How to unlock iPhone after the order is completed?
Turn on your iPhone with an unsupported sim card
Follow the steps on your screen of your iPhone and connect to WiFi
After detecting WiFi, the device will start the unlock process which will last from several seconds (depending on the speed of the Internet connection)

CONGRATULATIONS

Your iPhone is Unlocked. Once Unlocked it will go automatically to the main screen and connect to the GSM Network from the SIM Card you have inserted.
(if you are not able to connect to WiFi or your phone is not unlocking - Please then go to step 1 below)
On a computer with Internet access, install and then run iTunes application
Connect your phone to your computer via USB
After detecting the device,iTunes will start the unlock process which will last from several seconds to a few minutes (depending on the speed of the Internet connection)
The process will end with the message "unlock is successful" - or another depending on the language and the version of iTunes.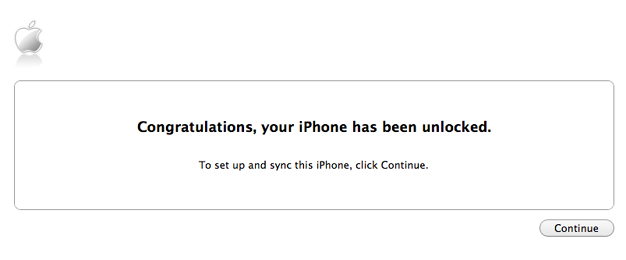 Sometimes, in order to synchronize simply turn on the phone wi-fi and wait several seconds (up to several minutes).
If the methods described below do not give the result you will have to restore your iPhone to the default settings.
UnlimitedUNLOCK.biz Codes Processed & Emailed 24 hrs a day 7 days a week. Our Automated System delivers Fast & Accurate Results.
Our automated system will process your order online and send your cellphone unlock code via email for the fastest results. We guarantee 100% that no one will be faster and have a lower price than UnlimitedUNLOCK.biz. Unlimited Unlock is Trusted by Millions for being the leading #1 Online Cell Phone Unlocking company in the industry today.
The UnlimitedUNLOCK Team is Trusted by Millions and has become an industry innovator and leader providing cellphone unlocking solutions for over 10 years. We've been helping out users from all around the world, and the SIM unlock story ends happily for all whether it is a Samsung, Motorola, ZTE, LG, Alcatel, HTC, Huawei, Sony, Pantech, or iPhone users. There is no reason to doubt this service - there are too many happy clients from all over the world who have already given feedback and are happy to confirm their success story. There is no good reason why you should not trust UnlimitedUNLOCK and have your Solo Canada iPhone unlocked.
Will I be able to use my iPhone with any sim card after the unlocking process is completed?
Yes, you will be able to use any sim card on your iPhone.
Will unlocking remove also iCloud (Find my iPhone) in my iPhone?
No! Unlocking and iCloud are two different things! We can't remove iCloud - we can only unlock your iPhone.
Can I cancel my order once it is paid and in the process?
No. Most of our services are performed automatically immediately after receiving the payment so we can not cancel the order if it is already in process.
My order is completed but after connecting to iTunes my iPhone is still locked. What to do?
Please send us an e-mail with your IMEI or Order Number. We will verify your order. In this e-mail please attach your iPhone checking operator which you can order here - if the result of checking shows that the phone is still locked we will pay the costs of the checking report and we will verify the IMEI (it will be processed again for unlock).
What do those messages mean: "Not Eligible" or "Payment Canceled"?
"Not Eligible" - Unfortunately, there was no code for this IMEI in the database. Meaning that the IMEI most likely is not clean (iPhone is either reported lost/stolen or have an open balance). The transaction will be canceled and you will get a refund in 1-3 working days (or instantly back to your UnlimitedUNLOCK account if you have a resellers account with us).
"Payment Canceled" - We could not unlock your phone, the money has been refunded to the account from which the payment was made. It usually takes 1-3 working days (or instantly back to your UnlimitedUNLOCK account if you have a resellers account with us).
Are you a wholesaler, distributor, service center, eBay seller, or store owner? Do you need many unlock codes?
No problem! If you need special pricing for bulk cell phone unlock code orders please contact us and let us know. We understand that pricing and speed of code delivery are important to your business. We have very competitive pricing for those working in the mobile/cellular industry. Please contact us regarding wholesalers & resellers bulk pricing for Cell Phone Unlock Codes.
What are people saying about UnlimitedUNLOCK.biz?
View our latest feedback from our most recent customers in our TESTIMONIALS.
Our goal is customer satisfaction.
Need Help?
If you have any further questions, please contact our 24/7 support.
Ready to Unlock?
Fill out your phone's information and check your email for unlocking instructions.
Let's Get Started by choosing your USA C Spire iPhone Unlocking method here...
We welcome wholesalers, resellers, distributors, cellphone stores, service centers, and eBay sellers! You can check our prices on our Wholesale Unlock Pricing page.
Please Note: Pricing is 100% negotiable, as we are the direct source for all your unlocking needs.