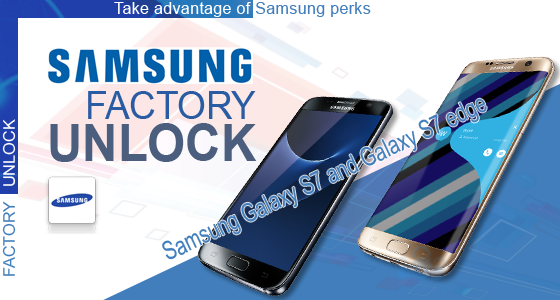 Take advantage of Samsung perks.
Samsung Galaxy S7 and S7 Edge top the Note 5 for best performing smartphone display ever. Samsung continues to lead in smartphone display technology and after six months as the king, the Galaxy Note 5 was dethroned by the new Galaxy S7. If you're like everyone here at UnlimitedUNLOCK, you're excited beyond words about this year's new flagship devices from our favorite manufacturers. The new Samsung Galaxy S7 and S7 Edge look to once again raise the bar for what we can come to expect from Samsung's devices. The new Samsung Galaxy S7 is slim, but in a big way. It looks the part, with a 5.1 inch Quad HD Super AMOLED screen protected by scratchproof 3D glass. The sleek glass and metal, refined and streamlined with ergonomic curves, ensures a comfortable, secure grip. As for performance, it's huge, with more advanced cameras, more responsive software functionality and superb connectivity to enjoy the full gamut of products, services, and online experiences.
The phone comes with a microSD card slot upgradeable to 200GB and fast wired and wireless charging technology. As a practical phone to carry with you, the Samsung Galaxy S7 received an IP68 rating to make it water resistant to spills, splashes. Even dropping it in water won't slow down the Galaxy S7.
Taking pictures takes on another dimension. Compare it with other phones of lesser quality and immediately notice the revolutionary world first of Dual Pixel technology which produces crisper, richer colors from a brighter lens with a wider aperture for great shots even in low light. The front facing camera is 5MP while the rear camera offers 12 MP with fast auto focus.
Gaming performance has also gone large with big updates to software and the optimization of gaming performance. The 4GB RAM and 32GB ROM processer and bigger battery capacity puts PC power in the palm of your hand to ensure longer playing time, while the internal cooling system keeps the device from overheating. The new add-on for gamers, Game Launcher, allows users to manage battery consumption and minimize notifications.
The 4G LTE Galaxy S7 offers a seamless mobile experience with the new Gear S2 Classic to monitor fitness, or the connection with Gear VR to "travel" the world. Additionally, Galaxy S7 users can make payments with Samsung Pay, secured by Samsung KNOX. It's easy-to-use and accepted almost anywhere, making mobile payments available to more merchants and consumers.
Samsung Galaxy S7 and Galaxy S7 edge Unlock Codes at UnlimitedUNLOCK
UnlimitedUNLOCK.biz the #1 Online Cell Phone Unlocking Company in the World.
When your phone is locked with "Mobile Device Unlock" it's totally useless to order an unlock code.
We can quickly, efficiently and economically unlock your Samsung Galaxy S7 using the Device Unlock App. Device Unlock is an Android app that allows you to request and apply a mobile device unlock directly from the device. This allows you to automatically apply Mobile Device Unlock to the device without using a manual code