Why does my iPhone discharge quickly? Have you started to notice that your iPhone battery draining faster than usual? We get that this is annoying and that is why we are here to help. This question often arises among owners of Apple smartphones. If before the occurrence of such a problem, the mobile device was operated for two years or longer, it means that the battery has already worn out and, possibly, needs to be replaced. And what to do if the battery of your iPhone that has been working for just a month, discharges rapidly? This article describes the causes of the problem and gives detailed recommendations on how to optimize the performance of your mobile device.
We are going to show you how to discover whether there is a hardware problem with your iPhone or it is an app that's being power greedy. Batteries are a common fault in iPhones, but it is not always caused by the phone itself, it could be from something running in the background of an app, and fortunately, any update from IOS 13 onwards have given iPhone users a number of tools to help diagnose your battery issues.

Reasons and Solutions for iPhone Battery Draining Fast
Is an app the reason for your iPhone battery draining?
There are some iPhone entertainments that really run battery rapidly, like Live Photos, 4K videos, iMessage apps, Siri integrations, 12-megapixel cameras, etc. If you run these apps, there is no doubt that the battery will die so fast.
Solution: Turn off apps... If you want to save the iPhone battery, then you have to turn off the battery-consuming apps. Or use it when it is necessary. Go to "Settings" > "Battery" to check what app runs the battery most percentage, then you can try to turn off the apps by double-clicking the Home button > swipe from bottom to up to turn off the app.
Is it location and background apps refresh?
Apart from the apps that you are using, still there are some apps that may also run in the background without your sense. Like the Location services and background app refreshes.
Locations Services users GPS, Bluetooth, and crowd-sourced WLAN hotspot to determine your location, which will lets you drain your battery.
App Refresh is not the necessary feature in iOS 7, but it does die your battery because it allows the apps to refresh their content when on WLAN, or cellular in the background.
Solution: Disable Location and background apps refresh... On your iPhone, go to "Privacy" > "Location Services" and slide it to OFF to disable Location Services. Go to "Settings" on your iPhone > "General" > "Background App Refresh" to slide it to OFF to help preserve battery life.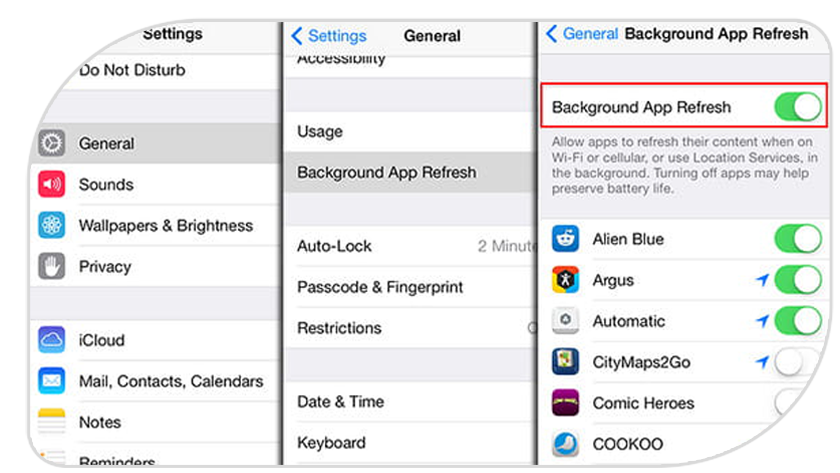 Are email and app notifications pushed?
It is a good thing that when you receive the emails or notifications, you will also get the ringtone or pop-up reminder. However, that means, your iPhone must maintain a constant connection to your email server or other apps. In other words, your iPhone keeps asking the server, "Is their mail" to drain the battery. And every notification message will wake your iPhone for 5 to 10 seconds for every app, and 4 to 8 minutes for 50 messages, which also causes your iPhone battery to die so fast.
Solution: Fix Email and app notifications push... Go to "Settings" > "Mail" > "Account" > "Fetch New Data" to turn off "Push" at the top > Scroll down to choose "Every 15/30 minutes" under "Fetch".
For disabling notifications push, go to "Settings" > "Notifications" > select one app and slide it to OFF for the "Allow Notifications" option. You can make the settings one by one to save your iPhone battery.

Are Diagnostics & Usage Data On?
Diagnostics & Usage Data is the feature that automatically sends daily diagnostic and usage data to Apple for improving activity. The details include hardware, operating system specifications, performance statistics, and data how you use your devices and apps. To some extent, you may disclose your private information to Apple.
Solution: Turn off Diagnostics & Usage Data​... Go to "Settings" > "Privacy" > scroll down to find "Diagnostics & Usage" > "Don't Send" to turn off it.

Is your screen brightness on high?
You will feel better when you are outside in the sun to play your iPhone with the bright screen. However, when you watch the bright screen indoors, you find the bright screen a little glaring. And it does drain your iPhone battery.
Solution: Auto-Brightness​​... Go to "Settings" > "Wallpaper & Brightness" > toggle "Brightness" down a bit. Or you can turn on "Auto-Brightness".
Is your iTunes automatic downloads on?
If you purchase apps or audiobooks or books on the iTunes store elsewhere, then this feature will make automatic download to appear on your iPhone without having to update.
Solution: Turn off iTunes automatic download​​​... Go to "Settings" > "iTunes & App Store" to turn off "Apps", "Books & Audiobooks" and "Updates".
Is your AirDrop on?
AirDrop is the feature that allows you to receive from everyone or only the people in your contacts, and make yourself discoverable with Bluetooth on, which is similar to Bluetooth for Android users. If others send any data to you, but your iPhone receives the data without your realizing it, then it will greatly drain your iPhone battery.
Solution: Turn off AirDrop​... Swipe from bottom to up to open "Control Panel" > turn off "AirDrop" to avoid iPhone battery draining.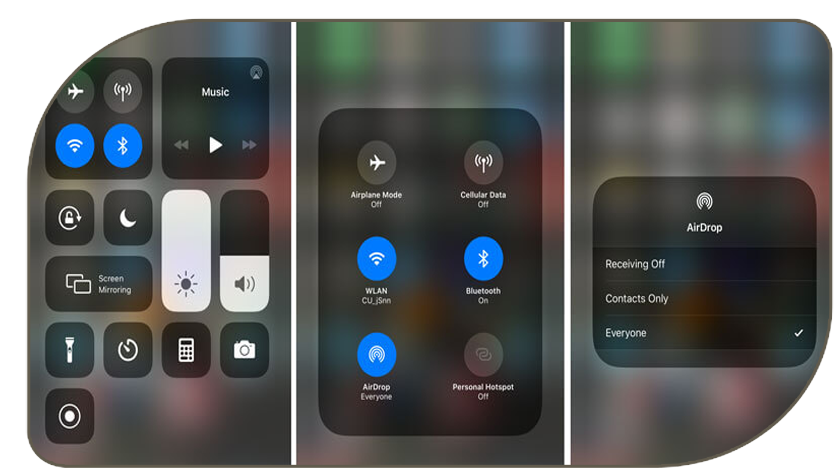 Is your iPhone charging properly?
Your iPhone will log your battery usage which can also be used to diagnose the reason for your battery issue. If you go to Settings > Battery you will see the Battery Level chart.
The Green indicates when your iPhone was running normally from its own battery power, the Yellow indicated when your iPhone was in Low Power Mode (below 20%) and the hatched green area indicated when your iPhone was being charged.
Is an app the reason for your iPhone battery draining?
Underneath the Battery Level Chart that is explained above is another chart named Activity.
The Dark Blue shows the time in which the apps were running on the screen, the Light Blue shows when the screen is off.
If from this you notice that there is a lot of background activity then there could be a problem with one of your apps.
Below the table, you will see the apps that you use in another table, by pressing Show Activity a breakdown of on-screen and background time will be shown.
Unless you know the app needs to run in the background, you may need to disable the app from running in the background to prevent it from using up your battery.
You can do this by going to Settings > General > Background App Refresh and turning it off for any apps that look to be heavily running in the background.
What to Do if Your Phone is Locked?
Now that you've learned how to check if a phone is unlocked, What do you do if it's locked?
If the phone is no longer under contract or if it was purchased outright, rather than on an installment payment plan, you can have it unlocked by the carrier. The Federal Communications Commission (in the U.S.) requires carriers to unlock phones that are not under contract.
If you're the phone's original purchaser, getting it unlocked is simple. Just contact the carrier's customer service department to request an unlock. You'll receive instructions on how to unlock your cell phone.
If you're buying a used locked phone from the original owner, have them unlock the phone before you pay for it.
How do I get my phone unlocked?
Depending on how you bought your phone, it may already be unlocked. For example, if you didn't buy your phone through a US carrier or you purchased it directly from Apple or on Amazon and either company indicated it was unlocked, you don't have to do anything.
Prior to the change, Verizon phones come unlocked out of the box.
Phones bought through AT&T, Sprint, T-Mobile, and Verizon (starting later this year) will have locks on them. And you'll need to find out what criteria needs to be satisfied before you can ask for a code to unlock it.
Thanks to mobile unlocking companies like ours UnlimitedUNLOCK.biz, you don't have to remain tied to your network provider forever. We help people unlock their phones and switch service providers. But not all cell phone unlocking companies are made alike.
Alternatively, use a third-party unlocking app like UnlimitedUNLOCK. We would recommend being careful to only use an unlocking service you trust. We at Unlimited Unlock are Trusted by Millions for being the #1 Cell Phone Online Unlocking Company іn thе World - successful and fairly priced! We provide mobile phone unlock codes and unlocking software with Fast, Reliable, Easy to use services. We can unlock iPhones, Samsung, Pantech, Huawei, LG, HTC, Motorola, ZTE, Alcatel, and more.