There are several ways to track a lost or stolen iPhone – so don't panic if you've misplaced yours. Apple has designed the iPhone so it can be found even if it's dead or turned off. With Apple's Find My app, you can hunt down your lost or stolen devices in no time. Apple has made some big improvements to its Find My service ever since it combined Find My iPhone and Find My Friends into a single app back in 2019. One such addition is the ability to track down your iPhone even when it's powered off, which debuted with iOS 15 in September.
Find My is the one iOS app you need to find people and possessions you care about, combining the functionalities of the previous Find My Friends and Find My iPhone apps. Through this app, you can share your location with friends and family, see friend locations that have been shared with you, and track down, remotely lock, and erase lost devices. These capabilities make it the best iPhone app for those who might need to locate essential contacts and devices in a pinch.
If you've ever used Find My Friends, Find My iPhone, or both, Find My will probably feel very familiar to you, though there are new ways of doing some things. Here's how to use Find My on your iPhone or iPad. But first, make sure you've set up a passcode. That way, if your phone is lost or stolen, they won't have access to your personal information. Let's also take a few minutes to make sure the Find My service is turned on so you can get your device back as quickly as possible.

Set A Passcode
Secure your device by opening Settings > Face ID (or Touch ID) & Passcode and follow the steps to secure your smartphone. Scanning your finger or letting Face ID do its magic is a minor inconvenience. After a few days, the extra step will become second nature to you, you won't even notice.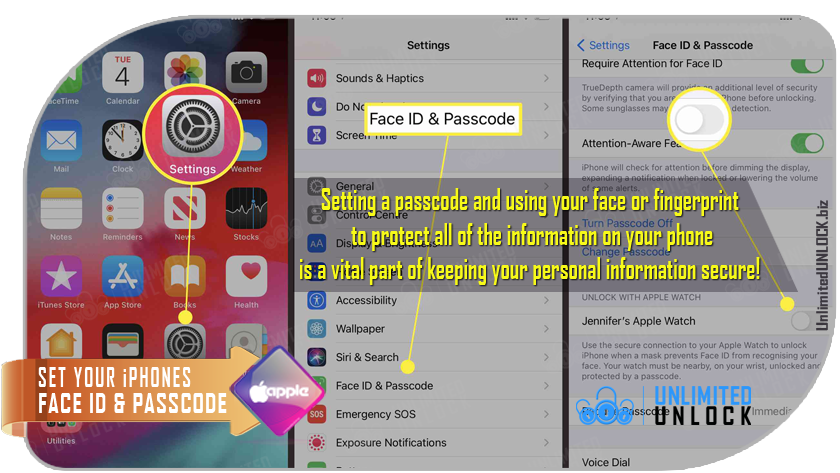 Enable The Find My iPhone Feature
If you're new to the iPhone or have never set up the Find My app yet, here's how you start:
Go to "Settings" and tap on your name at the top
Now tap on "Find My"
Now, enable the toggle next to "Find My iPhone"
If you've upgraded to iOS 15, you can also enable "Find My Network," which allows you to locate your phone even while it's turned off.
When your iPhone's battery is close to dying, "Communicate Last Location" will send the location of your iPhone to your Apple account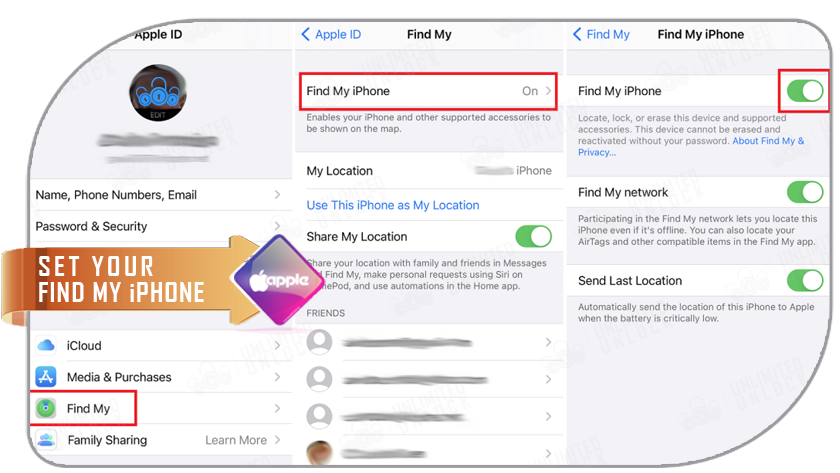 How to locate your lost iPhone?
The first thing you should do if you lose your phone is go to icloud.com/find on a computer, open the "Find My" app on another Apple device, You may also login in with your Apple ID and utilize the "Find My" app on another Apple device.
On Web
Open any browser and go to iCloud.com/find.
Sign in using the same Apple ID that is logged in on your iPhone.
Once you're logged in, you'll see a green dot on the map which is showing the location of your iPhone.
Click on the green dot and then on the "i" button.
Now, you'll see three options to do on your iPhone- Play Sound, Lost Mode, and Erase It.

When you tap on Play Sound, it will play a sound on your phone so you can locate it. This feature is for when you misplace your phone in a nearby area.
If you choose Lost Mode, you can enter a phone number where you can be called and drop a message too. Once you do this, the phone will be locked until its passcode is entered.
Lastly, if you want to remote erase your iPhone's data, choose the third option.

On App
If you want to use the Find My app to locate your phone, you can use someone else's iPhone to do so.
Open Find My App on your friend's iPhone.
Now tap on Me and then scroll up to see the "Help a friend" option.
Tap on it and it will open the iCloud login page on Safari, enter your Apple ID and password.
That's it. After this, all the features are the same as the web along with map directions to get to the last location of your iPhone.
Needless to say, if your iPhone is running on iOS 15 and eligible for the latest feature, you can be able to track it even if it's switched off.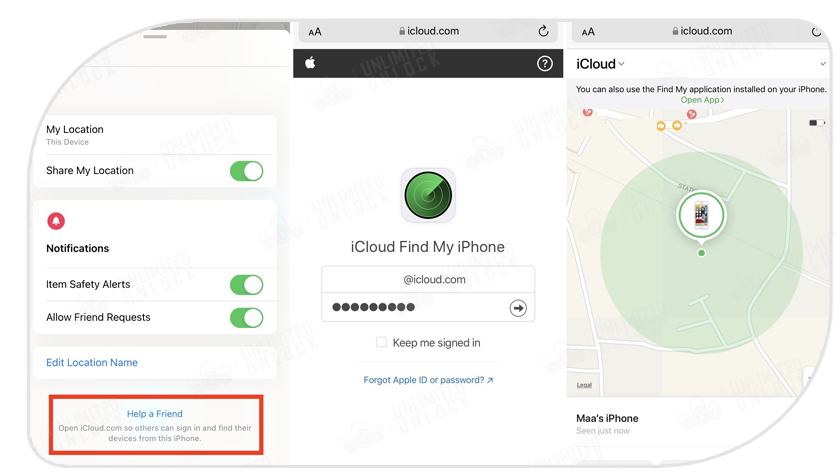 Found your phone but not activated? Unlock your phone here!
UnlimitedUNLOCK has an iPhone unlocking service online here that's perfect if you've bought a used phone and want to use it with another network.
Alternate method: Use Tracker Device
If you want to foolproof your iPhone with some things so that it cannot be stolen or lost, there are a few more ways to do so. Well, you can use an iPhone case that comes with a tracking device built-in. These cases come with a built-in GPS chip and you either have an app for tracking or a controller. So when your iPhone is separated from you, either the controller will let you know or you can later track it using the respective app.
So this is how you can locate your stolen or lost iPhone even when it's turned off or offline due to network.