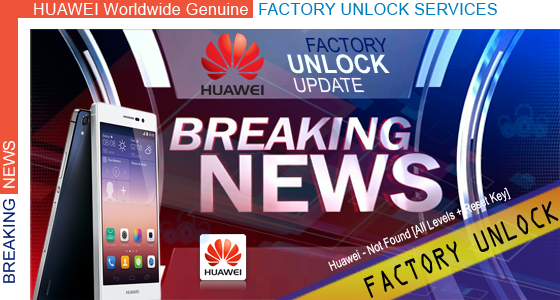 Exclusively for UnlimitedUNLOCK server we have Updated the service|tool to HUAWEI - NOT FOUND [ALL LEVELS + RESET KEY]​ Service is working fine and delivery time is delivering in less time [Monday to Friday] and support absolutely all.
When you try to unlock Huawei using Unlimited UNLOCK, you may have noticed that recently certain IMEIs from new Huawei cell phone models are frequently returning the message "Not Available" even when you are using the correct Huawei Factory Code.
We have since found out that these models are using a specific "Calculator" from Huawei and this explains why the Factory Code database is not returning the code. The Calculator database has been updated and prices have dropped.
Check out the list below for Huawei Cell Phones supported by the new Unlock Code Calculator.
Supported Huawei Models:
Huawei Ascend Y220, Y221,
Huawei Ascend Y320, Y321,
Huawei Ascend G500, Y511, Y520,
Huawei Ascend Y600,
Huawei Ascend 8836D,
Huawei G20, G2800S,
Huawei G3501, G3501 S.America, G3511, G3512, G3610, G3620, G3621, G3621L, G3622,
Huawei G5010, G5520, G5521, G5726,
Huawei G6005, G6006, G6151, G6210, G6605, G6608, G6620, G6622, G6800,
Huawei G7002, G7210, G7220, G7510, G7600, G7720,
Huawei Panama,
Huawei F316,
Huawei S7-931U, s7-932U,
Huawei U2805, U5130-05,
Huawei VM720.
and many more...
Service Name: Huawei - Not Found [All Levels + Reset Key]
Please Note: Pricing is 100% negotiable, as we are the direct source for all your unlocking needs. If you have BULK Orders Contact Us!
REMINDER: Remember WE DO NOT charge PayPal Fees like others