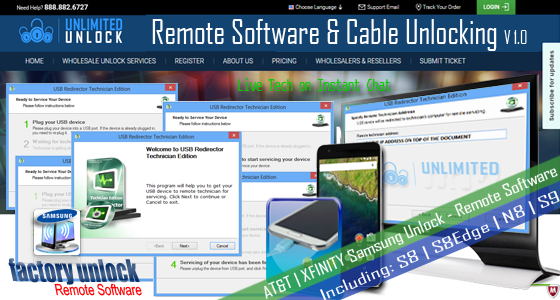 This New Exclusive Samsung remote software will be supported and updated on a regular basis. With all of the evolving security protection, it becomes ever more challenging to unlock cell phones but with UnlimitedUNLOCK.biz, that becomes part of the past. Absolutely all versions of, Samsung Remote Carrier Unlock are supported, including the Samsung Galaxy S8 | S8 Edge | N8 | S9. If your phone is asking for "SIM Network Unlock PIN" the software will read the Unlocking Code, then it will perform a Direct Unlock.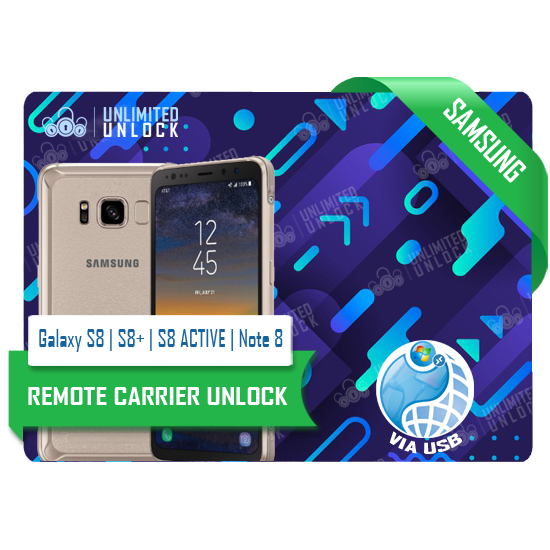 COUNTRY: USA
NETWORK: ALL
MANUFACTURE: SAMSUNG
MODELS SUPPORTED: S8 | S8+ | S8 Active | NOTE 8
CODES PROVIDED: Unlocked
Please use this service for any USA - Samsung - ALL Models Including S8 |S8 ACTIVE | N8 | S9 Unlock [Remote Software]
MODELS SUPPORTED: ALL Models Including S7 | S7 Edge | S8 | N8 | S8 Active | S9 | and Older Models
SPECIAL INSTRUCTIONS: Service is ONLY ACTIVE and ONLINE...
- Monday - Saturday: 10AM - 9PM [EST]
- Sunday: No Remote Software Unlocking [Techs are OFF]
*Since this service is provided via the Remote Software method, if you order during OFFLINE hours - you will need to wait till the next business day.
You can also access the Official FAQ for the Software here: Software Unlocking FAQ ?
This important new update to our software enables anybody to remotely unlock by software & cable an amazing 280+ models, quickly, easily, and cost-effectively. For a listing of all our Remote Unlocking services available click here: REMOTE SOFTWARE UNLOCKING
Delivery Times and Cancellation

All unlock codes and unlock confirmations are sent by email to the email address that the customer enters on the order form. Delivery times displayed on the website are estimated delivery time (EST...

Delivery Times and Cancellation

Refunds

Refunds If no unlock code is found for a particular phone, a refund will be processed almost immediately in rare cases within 24 hours of us becoming aware that no code is available. All refunds ca...

Refunds

Fraud Protection

As a result of the so many fraudulent orders that we receive each day, it is imperative that we take all necessary measures to minimize credit card fraud. Therefore, we reserve the right to refuse ...

Fraud Protection