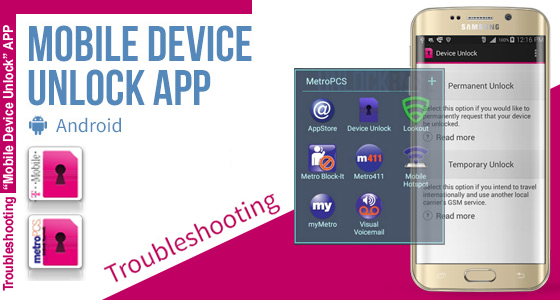 Device Unlock is an Android app that allows you to request and apply a mobile device unlock directly from the device. This allows you to automatically apply Mobile Device Unlock to the device without using a manual code. When your phone is locked with "Mobile Device Unlock" it's totally useless to order an unlock code.
Only supported devices (see below) may download the app or have it pre-installed. Supported devices may download the app from: Google Play.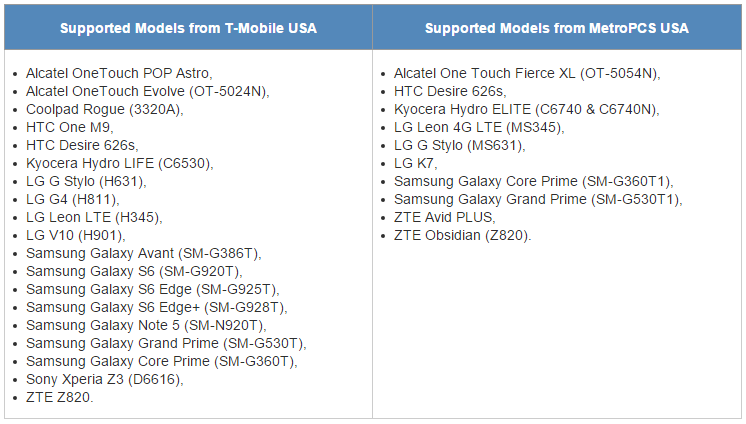 It's very important to order the unlock service of your Cell Phone using the correct service.
How to apply a "Mobile Device Unlock"
From that Application list, tap Device Unlock.
Tap Continue.
Choose the desired device to unlock type: Permanent Unlock
If successful, restart the device to apply the settings.
Note: If you do not restart the device, you will have a persistent alert in the notification tray.
Troubleshooting "Mobile Device Unlock" app
Check that you have an active data connection.
Clear the application cache.
Check that the device memory is properly managed.
Restart the device and try again.
If you receive an error, review the following table for troubleshooting: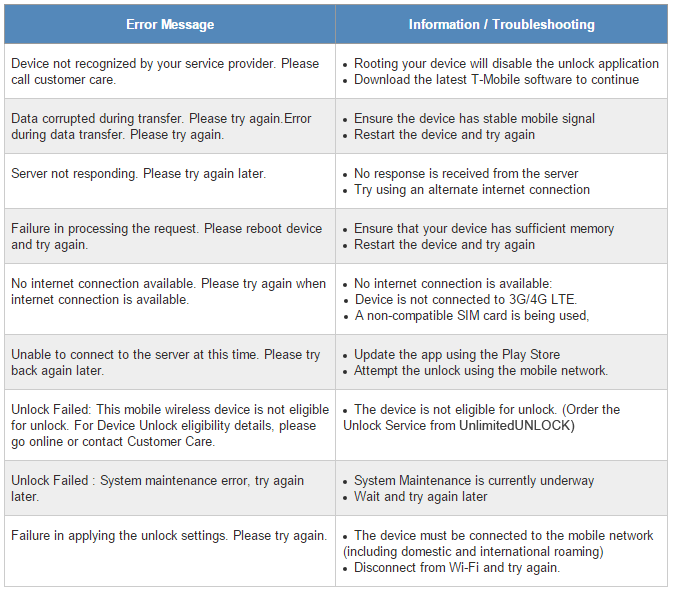 1 – Make sure you use the original Stock ROM (no custom Firmware like CyanogenMod, or Unbranded ROM)
2 – Make sure you're using the latest version of Firmware for your Cell Phone.
3 – Finally (after upgrade) perform a Hard Reset on your Cell Phone.
4 – Turn off 3G/LTE and force the use of a local WiFi Hotspot.
5 – Make sure you use home Wifi (and not public/company WiFi since they might limit somehow your internet usage)
Select one of these two services below to unlock with "Mobile Device Unlock"
Delivery Times and Cancellation

All unlock codes and unlock confirmations are sent by email to the email address that the customer enters on the order form. Delivery times displayed on the website are estimated delivery time (EST...

Delivery Times and Cancellation

Refunds

Refunds If no unlock code is found for a particular phone, a refund will be processed almost immediately in rare cases within 24 hours of us becoming aware that no code is available. All refunds ca...

Refunds

Fraud Protection

As a result of the so many fraudulent orders that we receive each day, it is imperative that we take all necessary measures to minimize credit card fraud. Therefore, we reserve the right to refuse ...

Fraud Protection