The pandemic has been something of a plague in the mobile world as well as the physical one. But Covid has not hit the smartphone market as hard as we feared it might - not only have we seen some exciting releases already this year, but there's still more to come in early 2021. With the pace of smartphone evolution moving so fast, there's always something waiting in the wings. No sooner have you spied the latest handset, that there's anticipation for the next big thing.
Every year, new features are added to smartphones, whether they are function-related or design-related. Some time ago, we saw how the fingerprint reader became a trend among high-end and even mid-range devices, as well as the all-screen front, the famous 'notch' to house the camera, and more recently, the triple and quadruple cameras.
We've already seen a number of great smartphones announced in 2020 including the Galaxy S20, OnePlus 8, Galaxy Note 20, and Pixel 5, among others. We're seeing super-fast 5G connectivity start to take hold; becoming a standard feature across flagships and appearing with increasing frequency within the mid-range space. We're now seeing screens that boast 144Hz refresh rates, which is good news for gaming and video, and camera phones continue to pile on the megapixels and extra sensors, unlike anything we've ever seen before.
Foldable designs are becoming cheaper and more durable, and battery technology is constantly improving too. We've also seen software enhancements too, with the release of Android 11 and iOS 14.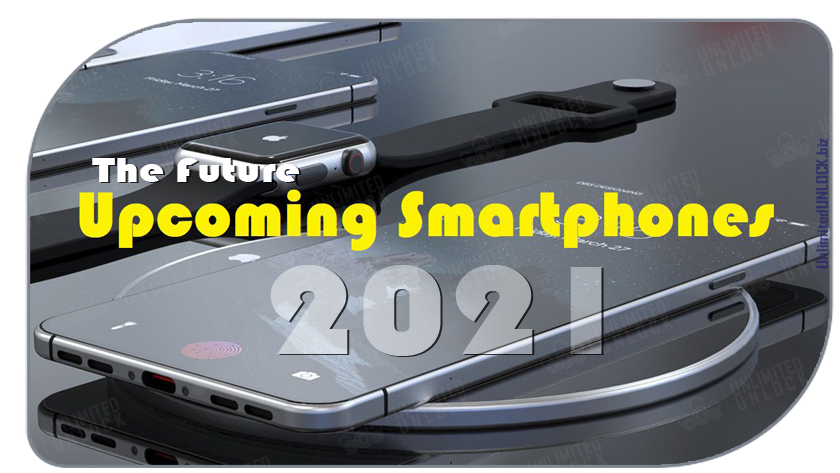 With 2020 behind us, it's time to turn our gaze towards 2021 and the exciting new gadgets it will most certainly have in store for us. What will be the trends in 2021 for smartphones? Perhaps you think that today's cell phones are quite complete, and they are. Today smartphones are devices with advanced technologies that allow us to do almost the same thing as on a computer, but there is always room for improvement. Besides, every year new technologies appear that can improve the user experience and take it to another level.
Some of the trends that will define 2021 include continuous expansion of 5G support on both high-end and mid-range devices, as well as quite possibly the first phones with true under-screen selfie cameras. Bezels and notches will get smaller, though screen sizes probably won't grow up that much more.
The upcoming generation of phones
With that in mind, here are the broad strokes of what we expect in 2021 as far as major phone announcements go.

Samsung Galaxy S21 (S30) Series
While we won't see Samsung's next flagship until early 2021, it's never too early to start preparing. In recent years Samsung has preferred to hold its own Unpacked announcements for the S-series flagships in February, but rumor has it that this year we're going to see the Galaxy S21/S30 series a little earlier in January 2021, so most of our current information is based on rumors.
We're pretty much expecting the naming trend to continue after Samsung made the S10 to S20 jump. Samsung will most likely launch three main models in the series, similar to the S20 with the S20 Plus and S20 Ultra. As for specs, the Samsung Galaxy S21 (or maybe S30?), S21+ (S30+), and S21 Ultra (S30 Ultra) are expected to arrive in January or February 2021. We expect the next-gen Qualcomm Snapdragon 875 chipset to be powering the US version of the device, while a Samsung Exynos 1000 (Exynos 2100) chipset has been tipped for the international version of the phone. The S21 (S30) Plus will reportedly stay at a 6.2-inch display size, and the S21+ (S30+) will sport a 6.7-inch display, whereas the top-end S21 Ultra (S30 Ultra) is rumored to sport a big 6.9-inch AMOLED display. We've also received conflicting reports regarding the camera setups, and it sounds like only the S21+ (S30+) will receive a battery upgrade. It may rise from 4,500mAh to 4,800mAh, while the S21 (S30) and S21 Ultra (S30 Ultra) stay put at 4,000 and 5,000mAh. Larger cameras and even S Pen support on the Ultra variation are expected across the board. A complete review of the Samsung Galaxy S21 and S21 Plus rumors, features, leaks, and specs can be seen on the TomsGuide page.

Samsung Galaxy Note 21 (Note 30) Series
Despite numerous reports that Samsung is essentially planning to kill off the Galaxy Note lineup altogether, we still expect to see a Galaxy Note 21 (Note 30) in early Q3 2021. Samsung will likely retire the Note 21 (Note 30) because rumors claim that the most premium Galaxy S21 (S30) version will score S Pen support, which would technically turn it into a Galaxy Note of sorts. Additionally, foldable phones are breathing heavily into the neck of the Note lineup in terms of popularity.
Unsurprisingly we don't know much about it yet, but there are already a few leaks and rumors. The main leaks surrounding the Samsung Galaxy Note 21 (Note 30) are simply whether or not it will even launch. The Samsung Galaxy Note line may be on its way out due to poor high-end smartphone sales, a symptom of the coronavirus pandemic. Those reports were mostly based on rumors that the Galaxy S21 (S30), particularly the Galaxy S21 Ultra (S30 Ultra), would gain the one feature that sets the two products apart. According to sources close to Reuters, it's been rumored that Samsung is looking to ditch the range and just focus on the Galaxy S range and the new Galaxy Z Fold range at the high end. Reuters also reports that the "next version of Samsung's foldable phone will be compatible with a stylus, which will be sold separately." This will likely be the Samsung Galaxy Z Fold 3.
Industry sources have apparently said the same, adding that there's supposedly only going to be one Galaxy Note 21 (Note 30) model though - so we might not see a Samsung Galaxy Note 21 Ultra. So right now we're really not certain, but we'd think there's a fair chance there will be at least one more Note, and assuming the Samsung Galaxy Note 21 (Note 30) is in the works, we can take a good guess at when it will launch, with August 2021 is very likely.

Samsung Galaxy Z Fold 3
If you think Samsung already went all out on foldable phones this year, 2021 might change your mind. Samsung's Galaxy Z Fold 2 was a big leap forward compared to the original Galaxy Fold. Given how good the Galaxy Z Fold 2 was, it's no surprise that Samsung will definitely want to expand its foldable phone portfolio in 2021 with the Galaxy Z Fold 3. Samsung is focusing its efforts on foldable phones and we're expecting it to see a new Flip. The release of the Galaxy Z Fold 3 is still a while away. The exact date is understandably still unknown, but some insiders have narrowed that it's expected to launch separately to the Galaxy S update, so we think it will appear in June 2021. That leaves you with plenty of time to save some cash if you're planning to get one. Hopefully, next year things in the industry (and the world) will be going according to plan and we won't see any delays.
For the Z Fold 3, we expect the SoC of choice to be the newly announced Qualcomm Snapdragon 888. Yes, Qualcomm switched its naming scheme this year, going for 888 rather than 875. The chip will be paired with a generous amount of RAM, either 12 or 16GB, and most likely 256GB of storage. Overall, the Z Fold 3 should be as fast as smartphones get next year, at least on the Android side. Additionally, the Z Fold 3 is said to be much thinner than its predecessor and also score S Pen support, which would make it the next most intriguing Samsung phone.

Huawei P50 Series
US sanctions may have done plenty of damage to Huawei's business, but it hasn't stopped the firm from producing flagship phones just yet. The company revealed the Mate 40 series last month, and it now looks like the Huawei P50 series is still on the way as well. Korean-based outlet The Elec reports that the Huawei P50 series is scheduled for launch in the first half of 2021, citing people with "direct knowledge" of the situation. Expect to see three phones - a P50, P50 Pro, and P50 Pro Plus - with prices going up and over a grand for the top model.
The Huawei P50 phones will use the new Kirin 9000 chipsets found in the Mate 40 phones from the in-house HiSilicon division. That's the usual course of things, new Kirin chips debut with the Mate series and are used in the next P-series a few months later. They could also be the first Huawei phones to use 120Hz panels, though most rumors so far still only point to 90Hz. Currently, there aren't many leaks that appeared regarding this unannounced smartphone lineup.

OnePlus 9
A report states that the flagship phone will be launched sooner than expected. While the manufacturer usually announces and then releases its premium handset each April. Just like Samsung, OnePlus is also rumored to be bringing its next flagship out a little early, moving from its customary April/May slot to a March 2021 release for the OnePlus 9. Earlier this month renders of OnePlus 9 and OnePlus 9 Pro had surfaced showing two big camera sensors on the back of both phones. OnePlus 9's front panel with a hole-punch cutout for the selfie camera can be seen in the renders as well. The phone is expected to come with a flat display. On the other hand, the OnePlus 9 Pro renders showed a curved display, the same rear, and front camera configuration as the vanilla model. The two phones can be expected to be powered by the Snapdragon 888 SoC.
The OnePlus 9 Pro should retain the QHD+ resolution — or even switch to a 4K panel — and offer camera upgrades. There's very little information regarding these phones at this moment in time, we'll have to wait until closer to the launch date to get a better idea of the full complete specs and as to how much the OnePlus 9 will cost. Having said that, OnePlus has followed a consistent pattern over the years in terms of pricing.

LG Rollable Phone
LG Rollable aka LG Slide smartphone with a side-rolling display has been in the rumor mill for a while now. According to reports, the LG Rollable OLED display smartphone should arrive sometime in March 2021 and will be the newest product part of LG's Explorer Project. Unless the release date gets delayed, it will also be the first commercially available rollable phone in the world. As GSMArena notes, the company has previously applied to trademark LG The Roll, LG Double Roll, LG Dual Roll, LG Bi-Roll, and LG Roll Canvas, so one of those names might get used instead. Unfortunately, very little is known about the LG Rollable at this stage when it comes to specifications, but in terms of design, the product is expected to resemble a regular smartphone when the extended display isn't in use.
Unfortunately, we don't know much about what's inside LG's upcoming rollable smartphone. A render leaked in the past suggests that this rollable OLED phone, whatever it may end up being called, could have a flexible display that can be rolled into its casing. It doesn't say much else, but there is mention of "electronic touch screen pens for smartphones", which could mean that LG's first rollable phone will come with a stylus.

Motorola Razr 2021
The Motorola Razer (2019) seriously impressed us when it arrived last year, particularly given how it sent us on a nostalgia trip to the forgone days of the flip phone when the original Razr was king. The Motorola Razr 5G is a new foldable, though technically it's a sequel to a sequel. It doesn't stray far from the idea behind the original, which was to merge nostalgia for the flip phones of old with the folding display technology of 2020. The phone is a compact device when folded and a normal-sized smartphone when opened.
The Razr 5G is as much a phone of the future as it is of the past - for people who are bored with current phone designs, who long for something different and new, who want something to show off to their friends in order to stir discussion. Motorola has upgraded the chipset in the new Razr from a Snapdragon 710 to the Snapdragon 765G. That should give the Razr a performance boost over its predecessor, but the more appealing addition from the new system-on-chip is its included 5G modem. That allows the new Razr to connect to 5G networks without having to change its sleek design. A complete review of the Motorola Razr 2021 rumors, features, leaks, and specs can be seen on the TomsGuide page.

Google Pixel 6
When it comes to smartphone releases Google is not exactly known for its ability to keep a secret. We haven't really heard anything about the Google Pixel 6 just yet - that's understandable, given the Google Pixel 5 is still pretty new still hot out of the oven - and we're probably going to be waiting quite a while until we do hear anything concrete.
Although Google reserved its flagship aspirations in 2020, that might not be what it plans for the future of Pixels. 2020 was a crazy year, no doubt, but Google managed to somehow fit Pixel 5's announcement into its own release schedule window. It was officially announced on September 30th and went on sale a month later. Looking further back into Pixel phones launch history we find that Google is pretty consistent with dates and we should expect the Pixel 6 phone to pop-up around October 2021.
The design of the Google Pixel 6 remains the biggest mystery at the moment. Google opted for a hybrid aluminum body with a thin "skin" made of a special bioresin plastic for the Pixel 5 and this combo gave the phone a clean and stylish look. The idea to use bioresin in order to keep the wireless charging capabilities and still go for aluminum was clever and well-executed. It's safe to assume that the Pixel 6 might exploit this concept further and we don't expect major design changes.