We are following the trends of factory unlocking LG Phones. The LG Stylo 6 has been one of the best-selling smartphones of 2020 as it has a relatively low price. For that reason, UnlimitedUNLOCK has an Unlock service for all the new LG phones including the LG Stylo 6 model. The LG Stylo 6 looks nothing like its predecessor the LG Stylo 5, which is a good thing. Instead, it sports an updated design that's so sleek that it can easily be mistaken for a flagship. LG Stylo 6 looks better than ever, with an attractive, modern design and a high-resolution 6.8-inch display. Throw in a built-in stylus for taking notes and drawing, solid stereo speakers, and a battery that can easily get you through the day, and the Stylo 6 seems like a good deal. The LG Stylo 6 smartphone released in 2020 is a big phone, measuring 6.74 by 3.06 by 0.34 inches (HWD) and weighing 7.73 ounces. Inside of the LG Stylo 6 is a MediaTek Helio P35 Octa-core, 2300 MHz processor, Android 10. As you can see in the image below, the LG Stylo 6 features a 6.8-inch 2460 x 1080 pixels, 20.5:9 ratio, 395 PPI, FHD+ FullVision display. It looks crisp, has excellent color accuracy, and is bright enough to use in direct sunlight — which makes the display feel even more immersive. This makes watching videos and playing games feel more vibrant and it provides a richer multimedia experience.
The LG Stylo 6 features a 4000 mAh battery. This battery provides up to 21 hours of talk time and up to 24.5 days of standby time. Experience the enhanced viewing that fits comfortably in the palm of your hand. A high-definition screen gives you the visual experience you deserve, with brilliant color and remarkable clarity. The triple rear cameras of the LG Stylo 6 gives you a 13MP standard lens for hi-res shots, a 5MP wide-angle lens with a 120° field of view, and a 5MP depth sensor that allows for a smooth bokeh blur to make your portraits pop. On the front is a 13MP camera to take care of your selfie needs. The standard and wide-angle lenses can utilize an LED flash for clearer low-light photos, and a selfie light helps to illuminate you and your friends. You can also take videos up to 1080p and use a host of camera features to get the exact image you want. The specs of the device say that it has 64GB of storage, but only 42GB is usable. A complete review can be seen on the Phonearena page.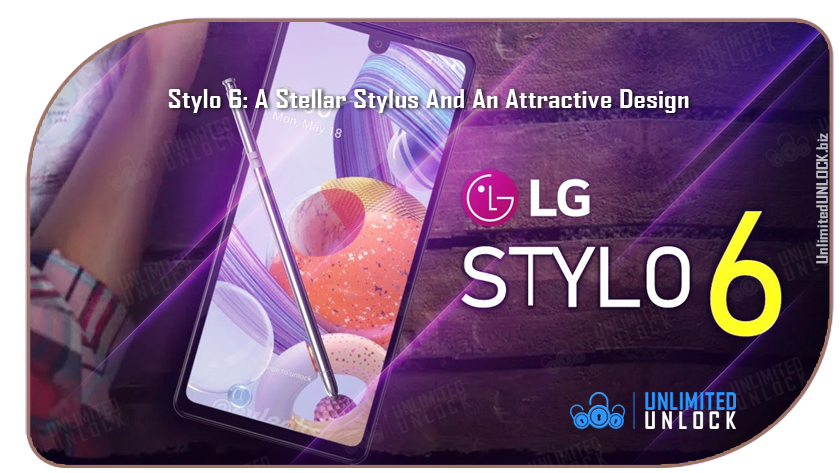 This phone is designed to work on select GSM and CDMA networks and is 4G LTE capable. LTE is an advanced cellular network data protocol capable of data speeds so fast that they compete with wired broadband Internet providers. With an LTE connection, this phone should have no problem streaming HD video, downloading apps, uploading photos, or anything else that requires a high-speed data connection. The phone is also backward compatible with 3G and 2G data for instances when you can't get LTE. In addition to cellular wireless, this phone also features Bluetooth, NFC, and Wi-Fi connectivity.
If you bought your LG Stylo 6 from a network service provider either on "pay as you go" or "on contract" most probably your LG is locked to that network and you are not able to use it with other carriers. If you want to use your device with other GSM SIM cards you need to unlock LG Stylo 6. The SIM lock activation means that your mobile phone device can only function with the SIM card of the carrier who sold you the LG Stylo 6 and with whom you have signed the 12 or 24 months contract.
One of the bright sides is that you can always attempt to unlock your brand new LG Stylo 6 - meaning an unlock that will allow your LG Stylo 6 to function on any SIM card by any carrier anywhere (Worldwide).
So, if you have just signed a contract with your carrier and purchased an LG Stylo 6 have a look at the SIM unlock procedure described below.
Why should you SIM unlock your LG Stylo 6?
And why not? Who is to say that you are bound to use one carrier with your LG Stylo 6 when you can use the services of any carrier in the world you want. You already pay the installments for the device, and you're bound by law to do so. There is no problem with that. You want the device, and you will pay for it one way or another. But there is a problem when you have to use the services of one carrier only for two years. Let's say that you have bought your LG Stylo 6 from T-Mobile, but most of your relatives use Verizon. Your relatives are paying less on their monthly bills. The math doesn't add up, and all logic points to the fact that you need to change the carrier.
Lucky for you, you can now perform an easy, quick, and cheap SIM unlock. You don't have to wait for months or pay enormous fees to free your device from that restriction. All you have to do is read the instructions provided for you here, and you will be good to go and have the freedom to choose a carrier that will give you the best quality service for your budget.
What needs to be done to remove the SIM lock activation from your LG Stylo 6?
Turn OFF your LG
Remove the SIM card that is currently in the device from your carrier and insert a SIM card from a different carrier
Turn ON your LG.
See if it asks for a code. If it does use the standard SIM unlock method, and if it doesn't use the USB unlock method.
Get in touch with one of our customer support agents; they will advise you of the best SIM unlock solution for your LG Stylo 6 mobile phone device.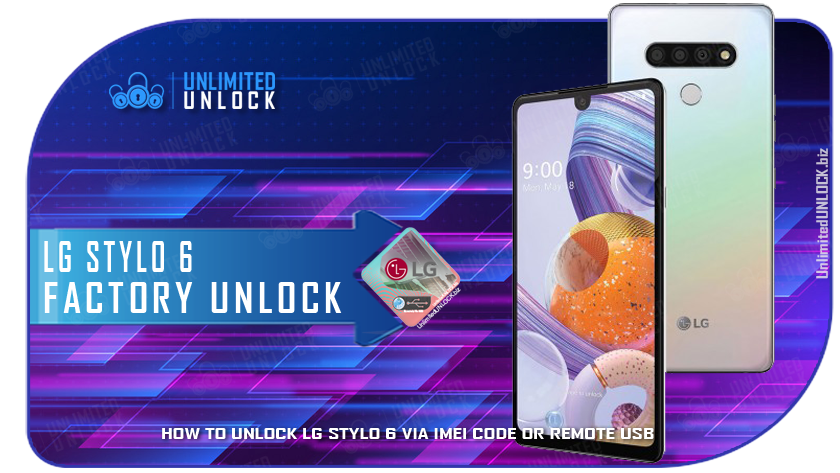 Learn how to Unlock LG Stylo 6...
Go to Settings > about phone > IMEI. Or dial *#60# and write down the correct IMEI of your LG Stylo 6. You will need the IMEI to start the unlock procedure via UnlimitedUNLOCK to be successfully done.
Visit UnlimitedUnlock SIM Unlock Services or Remote USB Unlock. Select the Country, Carrier, and Model that corresponds to your LG Stylo 6 device
Complete the order form
Insert the IMEI and provide a valid email address
You will receive an unlock code via email
To be able to enter the SIM unlock code you will need to make your LG Stylo 6 ask for it. There is only one way for you to do this. Enter a SIM card from another carrier than your current one and power on your LG. Upon starting, you will be noted that the SIM card cannot be used and you will be prompted to enter an unlock code if you want to proceed.
Enter the SIM unlock code you received via email. Click ok, and your LG Stylo 6 will be permanently unlocked.
To complete the unlock processes using the Remote USB Unlock for your LG Stylo 6. You will need to visit the Live Chat link you will receive via email and one of our professional techs will assist you in completing the processes.
The UnlimitedUNLOCK Team is Trusted by Millions and has become an industry innovator and leader providing cellphone unlocking solutions for over 10 years. We've been helping out users from all around the world, and the SIM unlock story ends happily for all whether it is a Samsung, Motorola, ZTE, LG, Alcatel, HTC, Huawei, Sony, Pantech, or iPhone users. There is no reason to doubt this service - there are too many happy clients from all over the world who have already given feedback and are happy to confirm their success story. There is no good reason why you should not trust UnlimitedUNLOCK and have your LG Stylo 6 unlocked.
If you simply have one LG Cell Phone to Unlock - Let's Get Started by choosing your phone here...
We welcome wholesalers, resellers, distributors, cellphone stores, service centers, and eBay sellers! You can check our prices on our

Wholesale Unlock Pricing

page.
Please Note: Pricing is 100% negotiable, as we are the direct source for all your unlocking needs.

Can I get my LG Stylo 6 cell phone unlocked online?
Get your LG phone unlocked via IMEI Code or Remote USB with no threat to the device's warranty.
It's the technique that the phone producer endorses.
Constant unlock assistance, valid regardless of the LG model.
Unlock your LG without any risks, while doing your usual thing.
Unlocking your LG phone doesn't request any effort (almost). You just have to send us the phone's IMEI number and the name of the service provider that locked it. What we'll do is search several databases looking for your unlock code. Once found, we'll send it to you accompanied by clear info about what you have to do to unlock the device.
Why order an LG Stylo 6 Code?
It's easy to switch from one provider to another
An unlocked phone basically allows you to change the network provider on your own terms, according to your requirements and priorities.
Forget about additional costs from roaming service; your finances will be happy
With an unlocked phone, all you need when you go abroad is your cell and a local SIM. That's the smart way to call locally without being charged a fortune for roaming service.
Sell your phone at a better price
When you decide to sell your phone, you'll get a better deal. Unlocked cells mean bigger bucks at resale. Not to mention that you can sell it abroad.
The smartest and safest way to unlock a cell phone
IMEI unlock is the recommended method to unlock your phone, since it implies genuine unlock codes from de company that has manufactured the device. Nothing fancy, no need for software or breaking the device's case. And NO need for warranty loss.
What if there have been modifications to my LG phone's software?
It doesn't matter if your device has been modified or updated in terms of software. Our unlocking technique works regardless of the updates to the original software.
But if the phone has been subjected to any sort of modifications, we can't guarantee anything. You have to restore the phone's initial settings and be aware that it's possible to have altered some important elements of the software that we needed in order to unlock it successfully.
What if my LG device doesn't react to the unlock code?
First of all, you must be sure you've followed our instructions.
Attention! It's important to follow these rules!
Here are some requirements you need to follow prior to ordering an LG Stylo 6 unlock code:
Be certain that your phone is locked. Just get a SIM card from another service provider and see if it shows the message to get it unlocked. If you don't get such a message and you have no trouble calling folks, that means the phone is NOT SIM LOCKED
Make sure the device you're trying to unlock hasn't been STOLEN or BLACKLISTED by the carrier.
Make sure that the device is NOT hard locked. Contact our support team before you order in this case.
Be certain that you send us the correct IMEI and that you select the original country and service provider, NOT the one you want to switch to
If you've done just that and the phone still doesn't react to the unlock code, that means that the device was previously unlocked or that it doesn't recognize the SIM. If you're getting the messages "Network Locked", "SIM not valid" or "Card error" you can unlock your handset with UnlimitedUNLOCK.
If you bought your LG Stylo 6 in the USA and it's locked on T-Mobile and MetroPCS, make sure you've put in place the Device Unlock app. Then forward your request using our Device Unlock App Service.
What do I do in case I have no idea what's the network that my LG is locked to?
There's no need for you to we've got you covered. You'll be able to get that information by using our LG Info Check by IMEI [Manufacturer | Country | Carrier | Serial #] in order to get your device's original network. This service is also used when you want this info for a different reason, such as buying a phone that's been used, you can get the details you need using our original carrier check.
What do I need if I want to unlock LG Stylo 6?
Not much, actually. You must have your devices' correct IMEI, internet connection, and a valid email address since that's how we'll send you the code and information on how to use it. Then you need to have access to the device's menu and keyboard.
Let's Get Started by choosing your Unlocking method here...