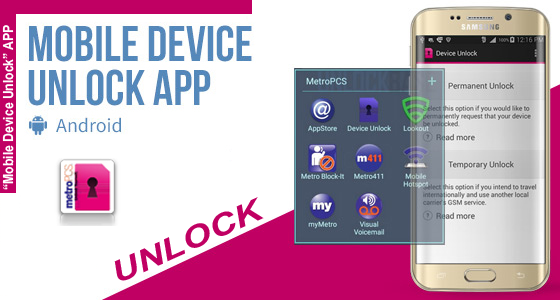 MetroPCS Device Unlock App is an Android app that allows you to request and apply a MetroPCS mobile device unlock directly from the device. The features of this app include the ability to remotely request Mobile Device Unlock without having to contact Customer Care and automatically apply the Mobile Device Unlock to the device without the use of a manual code.
Thanks to this app, we're now able to Register any IMEI as "Eligible" in the MetroPCS Database so you can unlock your Cell Phone using the "Device Unlock" App. Turnaround time for delivery is less than 2 Business Days. To officially unlock your MetroPCS Cell Phone using the Device Unlock App, please click here.
All you need is an Android device that supports the Mobile Device Unlock app:
LG Leon 4G LTE [MS345],
LG G Stylo [MS631],
Kyocera Hydro Elite [C6740].
Once the unlock request is processed, the customer needs to:
Make sure you have an active data connection via 3G | 4G | LTE or Wi-Fi.
From the Application list, tap Device Unlock. [Note: The application may be located in the MetroPCS folder.]
Tap Continue.
Choose the Permanent Unlock type:
If successful, restart the device to apply the settings.

Note: If you do not restart the device, you will have a persistent alert in the notification tray.
WARNING: It is very important to mention that the customer has to have data when attempting to perform the unlock, either 3G, 4G, or wi-fi but data on the phone. If there is no data the unlock will be unsuccessful, once a device has been whitelisted we will not be responsible for unsuccessful unlocks. If the customer has changed the original software or IMEI we will not be responsible for the app not to work (Do not install custom firmware like Avatar or Cyanogen before unlock your phone). If the customer cannot find the app on its phone he can easily go to applications and make it visible but a Hard Reset will always bring the app back to the phone.
Delivery Times and Cancellation

All unlock codes and unlock confirmations are sent by email to the email address that the customer enters on the order form. Delivery times displayed on the website are estimated delivery time (EST...

Delivery Times and Cancellation

Refunds

Refunds If no unlock code is found for a particular phone, a refund will be processed almost immediately in rare cases within 24 hours of us becoming aware that no code is available. All refunds ca...

Refunds

Fraud Protection

As a result of the so many fraudulent orders that we receive each day, it is imperative that we take all necessary measures to minimize credit card fraud. Therefore, we reserve the right to refuse ...

Fraud Protection