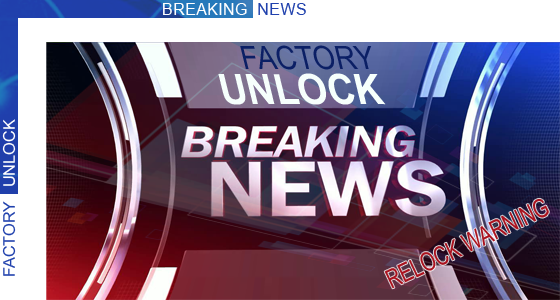 Recently in unlock market there are full of fake official services, which actually are done by Worldwide Unlock Service.

Please note that worldwide unlock service is NOT a permanent unlock and IMEIs can be relocked at anytime even after few months.

This year there is a rumor claiming that the current Worldwide Unlock Service, stating that the phone won't be relocked and the Worldwide Unlock Sources giving promises to resellers "there will be no relock". People start selling it as 30 days warranty, 3/6 months warranty etc, and finally many people use it to pretend genuiue unlock services.

There are few unlock services that can be confirmed as Worldwide Services including "USA T-Mobile Premium", "Japan Softbankv", "Japan Docomo", which we have never started, some people now even do it with Sprint Premium, Japan AU, AT&T Premium.

The point here is simple, no matter what promises they gave you, They will not, and are not able to return millions of dollars for relocked IMEIs, and can just close their business and disappear.

This problem is very serious since many unlocking sites are using the Worldwide service(s) and once IMEIs start relocking, they will disappear like the wind and many people will be affected.

Here is a warning to all of you!!! Think and choose your path wisely, either bet your business in short term profit or keep doing business long term processing the proper way.

We are only selling purely Genuine Unlock Services by carrier channels as usual and will not touch any of those Worldwide Unlock Services.

Hope you all understand what's going on now. There is no needed to ask us for the price and time difference with other unlocking sites. Its your own choice and you can judge are they using worldwide service or not.
Regards,
Unlimited UNLOCK Team
Delivery Times and Cancellation

All unlock codes and unlock confirmations are sent by email to the email address that the customer enters on the order form. Delivery times displayed on the website are estimated delivery time (EST...

Delivery Times and Cancellation

Refunds

Refunds If no unlock code is found for a particular phone, a refund will be processed almost immediately in rare cases within 24 hours of us becoming aware that no code is available. All refunds ca...

Refunds

Fraud Protection

As a result of the so many fraudulent orders that we receive each day, it is imperative that we take all necessary measures to minimize credit card fraud. Therefore, we reserve the right to refuse ...

Fraud Protection